TOMORROW X TOGETHER unveils concept photos of the Nightmare version of its 5th mini-album.
TOMORROW X TOGETHER has released the second concept photo of their new mini-album, raising expectations for their comeback.
They posted the concept photo "Nightmare" version of their 5th mini-album "The Name Chapter: TEMPTATION" through their official SNS at midnight on the 11th. If the concept of the "Daydream" version included fresh visuals of daydreaming youth, the concept photo of the "Nightmare" version shows the boys having a sweet nightmare.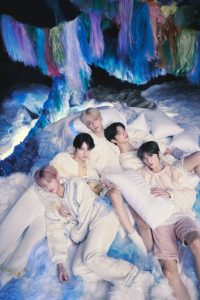 In the "Nightmare" concept photo, TOMORROW X TOGETHER each have a different appearance and expression in a dreamlike dream space. The photo captures the five members as they become addicted to their dreams, discovering that nightmares are not only scary, but also sweet and thrilling. The colorful objects contrast with the white-tone costumes of the members, creating a fantastic atmosphere.
The first episode of the new series,"Chapter of Names: TEMPTATION," the 5th mini-album, depicts the story of a young man who decides to travel for the future, and is shaken by the "temptation" of freedom and play before him.
They broke their own record with 1.56 million advance orders at the time of their comeback 18 days before (as of the 9th) with their new mini-album "The Name Chapter: TEMPTATION," which will be released at 2 p.m. on the 27th. They also released a concept clip of their "Nightmare" version on the 12th, which is expected to heighten the excitement for their comeback.