EXILE TETSUYA gave a speech at the 2023 Global Citizen Festival
EXILE TETSUYA on the stage at the charity live
"2023 Global Citizen Festival"


EXILE TETSUYA of EXILE/EXILE THE SECOND joined WHO (World Health Organization) Director-General Tedros Adhanom on the stage at the charity live "2023 Global Citizen Festival" held in New York on July 23 (local time).
TETSUYA's activities in Japan as an ambassador for "RECYCLE TO END POLIO," a project launched in July this year to eradicate polio, have been highly acclaimed by various organizations working to eradicate polio, and he recently attended the storytelling event "THE MOTH – Radio Hour Event" and he was invited to attend this event too.
"Global Citizen Festival" is a charity event organized by Global Citizen, a charitable organization that aims to protect the environment and eradicate poverty, and has been held annually since 2012. This year's lineup included internationally acclaimed American rock band Red Hot Chili Peppers, Lauryn Hill, and BTS's Jungkook.
During the live stage transition, representatives from non-profit organizations and corporations were invited to present their initiatives, and TETSUYA was joined by Tedros, Executive Director, and Saffir, a polio survivor and public engagement manager at Results Canada, in the section presenting polio-related initiatives. TETSUYA joined Director Tedros and Safia Ibrahim, a polio survivor and Public Engagement Manager at Results Canada, on stage to explain his initiatives and share his thoughts in English to the large audience.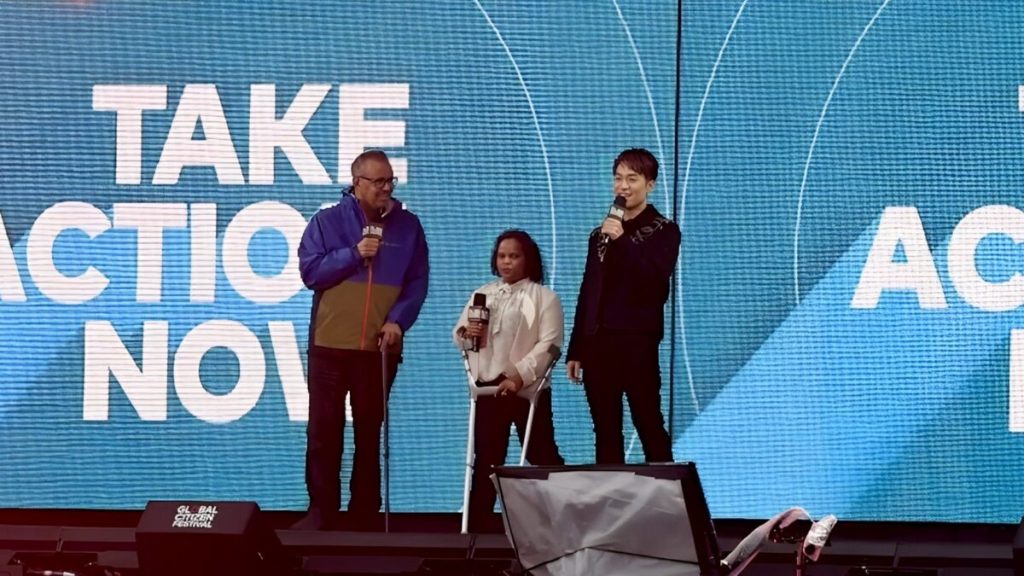 TETSUYA explained, "As an ambassador for 'RECYCLE TO END POLIO,' I collect and recycle plastic bottle caps from all over Japan, and use the proceeds to donate polio vaccines to children around the world. "With the thoughts of 'LOVE, DREAM, HAPPINESS,' we hope that countries like Japan and the United States will continue their strong support for the eradication of polio. Let us work together to achieve a world where no child suffers from this preventable disease.
An archive of TETSUYA's speech is available on "Global Citizen" official YouTube.