New unit "EXILE B HAPPY" performs for the first time!
The 7th secret member is revealed…! His name is Mendy Man?!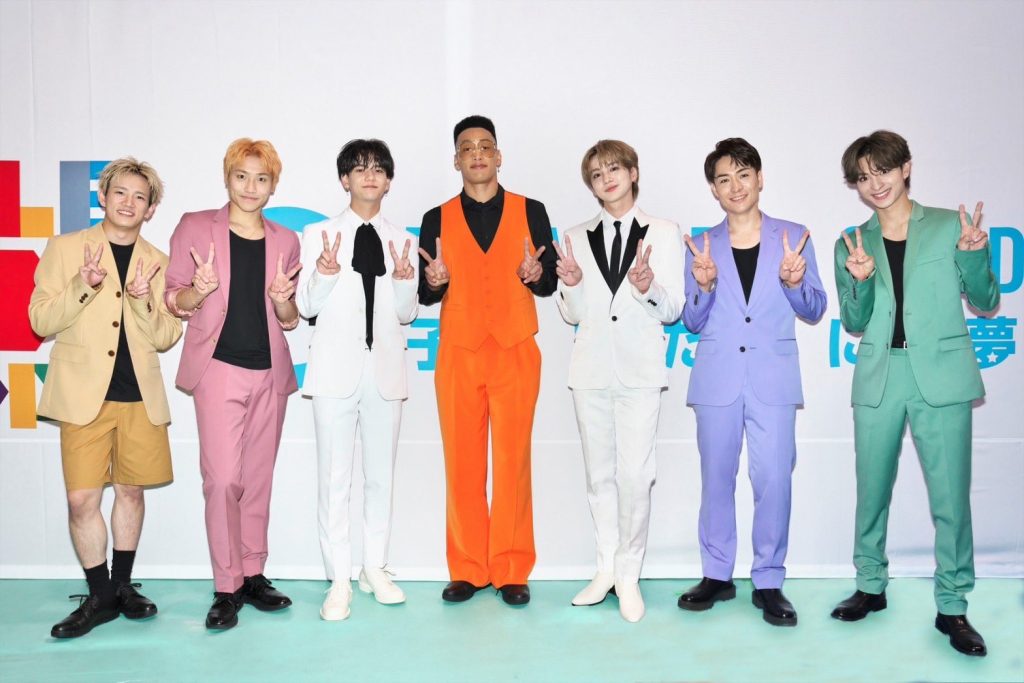 EXILE B HAPPY, a new music unit of EXILE group formed to support children's dreams through music and dance, held its first live at Chiba Port Arena on August 12.
The 7th member, Mendy Sekiguchi of GENERATIONS, who had been kept a secret until then, was unveiled as "Mendy Man," a hero for children, and sang and danced to a total of 11 songs, including an unreleased new song.
The unit created in June was led by TETSUYA of "EXILE" and gathered Sekiguchi and Komori Jun of "GENERATIONS", Yoshino Kitato and Urakawa Shohei of "THE RAMPAGE", Nakajima Sota and Kimura Keito of "FANTASTICS".
At their first live performance, they performed for the first time their unreleased new songs "MORNING SUN" and "BE HAPPY".
While there are usually age restrictions for concerts, such as 6 years old and up, the slogan for this day was "Live concert that can be seen from 0 years old," and a kids' space was set up in front of the stage. The youngest child, 3 years old, came to the event to experience a live performance, and the kid dancers performed on stage in sync with the members.
While both adults and children were excited together, it was Sekiguchi who was especially popular among the children. Sekiguchi appeared on stage wearing a handmade cape and shouting, "Mendy Man!," performing a comical skit with "Devil the Nesmith," who played the voice of his adversary, to laughter and applause.
After the show, Sekiguchi was still being called "Mendy Man" by the kid dancers one after another, and he seemed to feel a positive response from the children, saying, "The cape was the best."
After their first live, TETSUYA said, "They all look like heroes for the children and are incredibly reliable. We have been able to integrate the tasty parts of LDH and put them into this group. Since today is the start, I want to do bigger festivals and tours. I've got lots of ideas, and I definitely want to give them shape."
Sekiguchi added, "LDH has created a new form of live performance that we have never seen before, such as having a kids' space right in front of us. I would like to expand it further and deliver the 'HAPPY' that only LDH can do."
TETSUYA commented on the members of different generations working together, "I have never had the experience of being the oldest, and I wonder if Mr.HIRO could see this kind of scenery."
He also felt stimulated, saying, "I feel younger because of the trends and sensitivities of the younger generation."
Check out related articles:
New unit "EXILE B HAPPY" formed from EXILE!