EXILE SHOKICHI: "Niku-ism", a book that has thoroughly mastered the "love of meat", will be released on April 26th.
EXILE SHOKICHI will release his book "EXILE SHOKICHI Niku-ism" on April 26.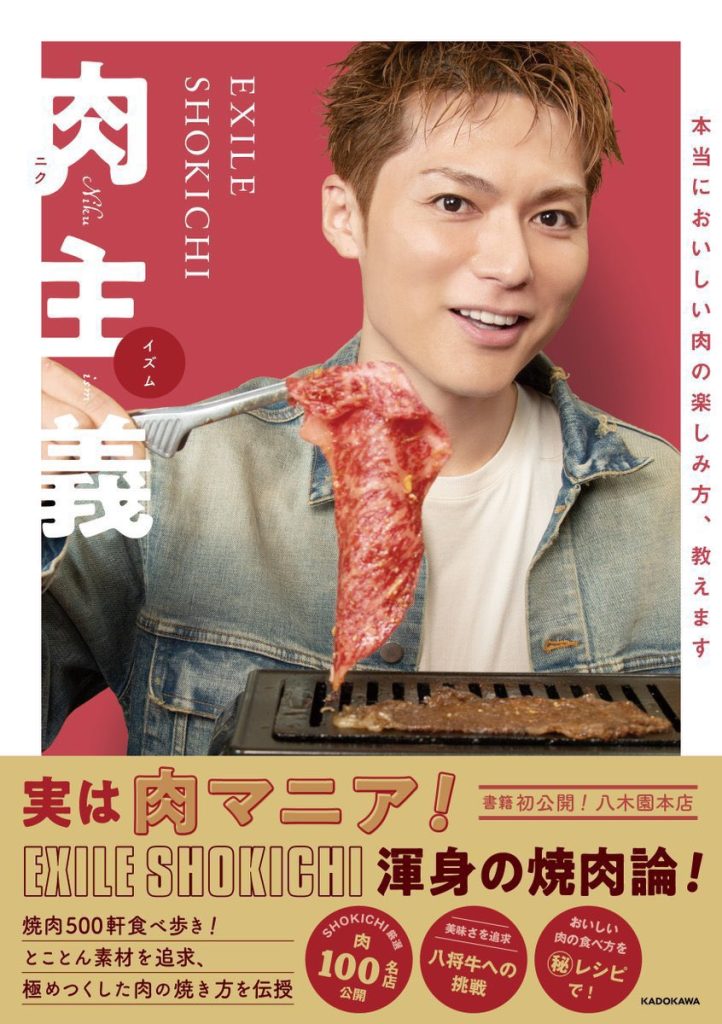 While working as a musician, SHOKICHI is also a foodie, raising the best wagyu beef in Hokkaido, obtaining wine expert certification, and mastering wines that taste great with meat. and his own choice of 100 best Yakiniku restaurants in Japan. It is a book expressing SHOKICHI's love for meat, who pursues meat to the utmost.
Comments from EXILE SHOKICHI have arrived!
While I am a little bit embarrassed to talk about a line of food culture as I am, I have packed all the encounters I have had on my food journey with my pursuing spirit into this book, "Niku-ism".
I have released this book with the utmost gratitude for life and the utmost respect for all those involved in it.
In addition, an official Twitter account is now open for a limited time. The appeal and information of the book is delivered by the manager and staff, and the love for meat and author's recommendations are delivered by SHOKICHI himself.
4月26日(水)発売#EXILESHOKICHI 著
【 #肉主義(#肉イズム)】🥩📚

☟各豪華予約限定特典付版はこちらから

📘ETS / SHOKICHIプレミアム動画https://t.co/YIuVJd6H4Z

📙楽天 / 特製ポストカード( 1枚 ) https://t.co/UJfWNrqgxV

📗Amazon / SHOKICHIスペシャル待受https://t.co/QuUMlGSyw1 pic.twitter.com/S1Wc9chaiz

— EXILE SHOKICHI 肉イズム / Official (@niku_izm) March 23, 2023
* Book information *
"EXILE SHOKICHI Niku-ism"
Release date: April 26, 2023
Price: 1,870 yen (1,700 yen + tax)
* Table of Contents *
・The Drama of Yakiniku without a Scenario
・Chef YAGI (SHOKICHI) entertains you with authentic meat dishes.
・SHOKICHI's 100 Best Yakiniku Restaurants
・The "Yakiniku and Wine" Principle
・Raising the Ideal Wagyu Beef in Hokkaido
・SHOKICHI meets meat-loving legends
・The meaning of taking life etc.