BALLISTIK BOYZ x TRINITY jointly released the single Drop Dead, evoking positive energy for everyone.
"Drop Dead" Trap/EDM music style combined with pop and rap vocals will energize everyone to follow their dreams.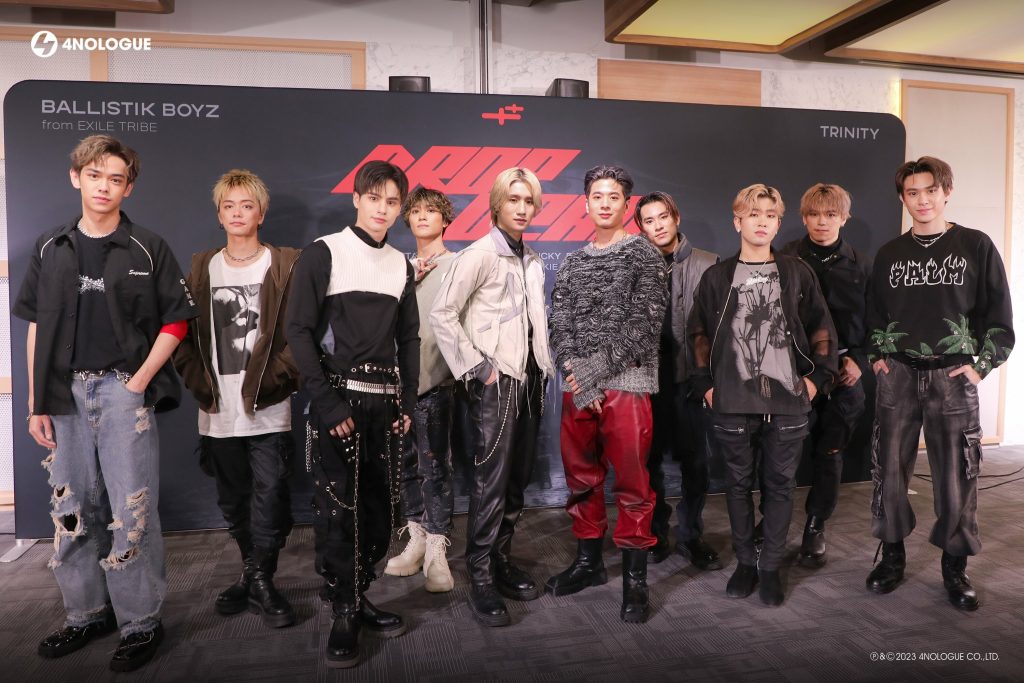 A project that pushes Asian pop music to the international level by bringing music from 2 cultures together through the single "Drop Dead" that will energize everyone to follow their dreams.
Works from quality artists from 2 countries: BALLISTIK BOYZ, a famous J-POP artist from Japan, and TRINITY, the number one T-POP artist in Thailand.
The project is guaranteed by F.HERO (Golf-Nattawut Srimok) of High Cloud Entertainment.
BALLISTIK BOYZ, EXILE TRIBE's sixth boy group under LDH, is a Japanese singer, dancer, and rapper. It consists of 7 members: Ryuta Hidaka, Yoshiyuki Kano, Ryusei Kainuma, Riki Matsui, Miku Fukahori, Rikiya Okuda, and Masahiro Sunada with a mix of hip-hop and rap pop styles, which are close to TRINITY, the first Thai T-POP artist from 7NOLOGUE, are equally complete with singing and rapping. It consists of 4 members: Third, Porsche and Jackie, the owner of the hit song "HIDDEN TRACK" and many more. The first collaboration on the single "Drop Dead" is ready to pass on positive energy to fans.
"Drop Dead" Trap/EDM's music style combines pop and rap vocals, with EDM producer "Ae BOTCASH" taking care of the lyrics and melody, and they want to announce to the world that they are ready to overcome any obstacles to grow to the next level. and would like to give positive energy to everyone who listens through this song have the motivation to follow their dreams Like the part that sings When they all Drop Dead, We're still young!
"Drop Dead" marks BALLISTIK BOYZ and TRINITY's first collaboration. How do you feel?
Masahiro Sunada (BALLISTIK BOYZ): This is the first time BALLISTIK BOYZ has collaborated with a Thai artist. Of course, it's normal to be excited. Before coming to Thailand, he studied Thai music and how it was. When I try to search, TRINITY's name comes up first, so I'm excited to work together. I'm very happy.
Porsche (TRINITY): At first I was happy, but deep down I was afraid that our work might be cross-cultural, that I had never met him. But we had to do our homework. Deep down, we are secretly afraid that we are not the right fit for him. Because this is our first collaboration. So we gave it our all.
Special project BALLISTIK BOYZ x TRINITY, it must be said that it is a perfect combination. With a pop genre that has an EDM sound and added rap parts, "Drop Dead" has an international vibe. Including the aggressive rhythm of the song, creating a feeling of enthusiasm for everyone who listens. Awaken positive energy to have the will to fight against obstacles and challenges. This is a great creation for the Asian pop music industry to reach the international stage.